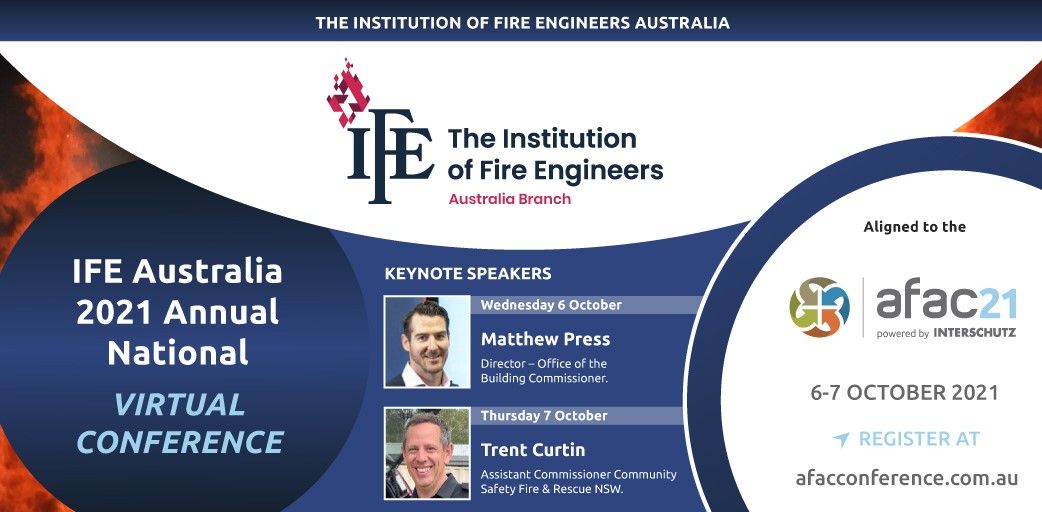 Dear Members and Colleagues of IFE Australia,
The AFAC21 Conference Committee has made the decision to make the upcoming AFAC21 powered by INTERSCHUTZ conference a virtual event as a result of the ongoing challenges of COVID-19. As a result, the IFE21 Conference will also be held as a virtual event with no changes to the original IFE program, except that it will be delivered virtually. For the first time ever, the AFAC21/IFE21 conference will be delivered virtually with content available to delegates online and on-demand.

Australasia's most comprehensive emergency management exhibition will be held from 5-7 October in a state-of-the-art virtual environment. It will be a showcase like no other of the latest equipment, technology and service providers via an easily accessible, feature-rich platform.

As much as we're disappointed with the whole COVID-19 situation, we're excited about fact that we're now able to reach delegates from anywhere around the globe virtually!!
Please note that CPD points are only available if you register for, and attend the IFE Conference stream.