07 Oct 2021
DAY 3 HIGHLIGHTS: Learning from adversity to inform practice and build resilience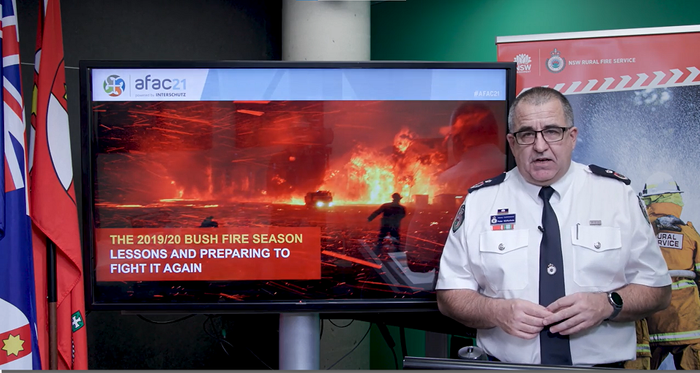 Learning from the challenges of the recent past to lead the way forward was a theme that featured heavily on Day 3 of AFAC21. Turia Pitt and Stan Grant began by speaking about rising to the challenges and fostering resilience from two different perspectives. Throughout the day, speakers and panellists added to and extended the conversation, introducing us to new ways to collaborate and to draw on community, research and technology.
DISCOVER DAY 3 HIGHLIGHTS
The 2019-20 bushfire season - learning and preparing to fight it again
Peter McKechnie - NSW Rural Fire Service
"When 19/20 happens again, we're going to be able to deal with it in a better way. We're going to be able to do more, and that may seem like a lofty goal to some, but we have to learn from what we experienced and we're absolutely committed to being able to achieve an improvement as we move forward and take on all of that new technology, reducing the risk our communities face and look beyond the firefighting." - Peter McKechnie
The 2019/20 bush fire season started early. Extended periods of drought, a dire seasonal rainfall outlook, and dry fuels led to a perfect storm of bush fires, the likes of which had never been seen before in NSW.
Such a unique, complex and challenging season presented the NSW RFS with intense and concurrent incidents which significantly impacted our communities and firefighters. Single incidents split into multiple incidents, and multiple incidents joined up to form single incidents that truly tested our previously proven firefighting techniques. The 2019/20 season has presented a new benchmark for us to prepare for.
These lessons are helping the NSW RFS focus on organisational capabilities, structures and practices to ensure we can fight that fire season again. This session, attendees heard first-hand the experiences, insights and reflections of our most senior personnel and the lessons learned from such an unprecedented bush fire season.
Measuring the impact and trends in volunteer experience to better manage response capability
Mr Stuart French - Country Fire Authority
"One of CFA's intangibles that has a huge impact on what we do is the intangible of knowledge – how we know to do what we do and do it well and do it safely. Think of that like an asset – it's spread across 54,000 minds and is 165 years old; something that's taken years to mature, and we spend millions of dollars each year maintaining and yet, on our books the knowledge of our volunteers' hard-won experience actually has zero dollars value." – Stuart French
Knowledge and experience of CFA's 53,000 volunteer firefighters is a critical resource for CFA and forms a key part of their capability, not only powering mentoring and on-the-job training, but also enabling physical assets to be leveraged to save lives and property.
Understanding the nature and depth of our knowledge in the field involves far more than simply reporting on the number of years' service for brigade members. A more fine-grained approach is needed to not only help report on the knowledge component of brigade viability, but to forecast for catchment officers' brigades that are in decline or even knowledge distress. Without the ability to individually test all members annually, this presentation describes a number of data markers used to determine a level of engagement and experience based on training, qualifications, roles performed, and incident response knowledge based on each member's attendance data. It showed the approach taken and included a demonstration of the working solution.
Harnessing community networks responding to COVID-19 - the case of African migrants in Melbourne's public housing
Dr Sandra Carrasco - University of Newcastle
A/Prof Temitope Egbelakin - University of Newcastle
"Institutional coordination and people-centred approaches are crucial to strengthen the institutional and community capacities to ensure better response and recovery which in the end would also prepare them for potential future disastrous events." – Dr Sandra Carrasco
On 4 July 2020, around 3,000 residents of inner Melbourne's public housing towers were confined to their units in the hardest lockdown imposed in the city since the beginning of the pandemic. The precipitated lockdown imposition revealed government unplanned and disorganised actions that questioned the legitimacy of the decisions taken to deal with the crisis. In December 2020, the Victorian Ombudsman found that Melbourne's public housing lockdown breached human rights laws. The experience caused significant stress in the affected residents, especially African migrant and refugees who were already in condition of vulnerability. However, it also promoted the rapid creation of support networks with multiple actors involved.
This session analysed the networks' role within and beyond the community to deal with COVID-19 response in Melbourne's public housing estates. The findings revealed that the precarity and hurried government decisions triggered a system of coordination and support engaging non-governmental, religious and community organisations. These networks continue supporting public housing residents until the present and might be crucial for managing further stages of the COVID-19 response. Furthermore, the lessons learned led to re-evaluating active community engagement and capacity building, particularly in culturally sensitive environments.
Wildlife Response in bushfires: lessons from the Black Summer of 2019-20 in NSW
Ms Peta Norris - NSW National Parks and Wildlife Service
Mr Tim Johnson - NSW National Parks and Wildlife Service
"It was clear that to be successful, these new approaches would need to be developed and delivered in collaboration with people and organisations that were not traditionally involved in bushfire and emergency management." - Peta Norris
The Black Summer bushfires of 2019-20 were unprecedented, testing systems and stretching resources like never before. Lives were lost, homes destroyed, and by some estimates, over three billion native Australian animals died.
The NSW government established the $1 million bushfire relief for wildlife rehabilitators program to support the sector and prepare for future extreme events. Funded through the NSW Environmental Trust, it aims to deliver across three streams: direct support for wildlife rehabilitators through $500,000 in direct grants; improving coordination and capability for wildlife response in bushfires and improving access to veterinary services for wildlife in emergencies. This session detailed findings and subsequent actions and plans to improve wildlife response in NSW.
Using geospatial intelligence to inform public safety
Nicole Hogan - NSW State Emergency Service
Melissa Daley - NSW State Emergency Service
"During response we have had the opportunity to enhance our use of Geospatial Intelligence to ensure that we provide or are provided with real time intelligence to be able to make affective operational decisions – particularly in a timely manner. We are also able to share that information across multiple emergency operation centres and incident control centres to ensure that we're all aware of the information and what the impact is on the communities and the consequences that are occurring as a result of the flood." – Nicole Hogan
The utilisation of Geospatial Intelligence to promote public safety continues to expand across the emergency management spectrum. While it has been well known to utilise pre-determined mapping throughout emergency response there has been an increase in focus on the utilisation of geospatial intelligence functions within the preparedness and recovery phases of an emergency or natural disaster. The increased agility within the response phase has provided near real-time situational awareness across agencies.
Geospatial Intelligence has come to the forefront of operational agility in NSW SES. This session looked at the implementation of dynamic dashboards for real-time situational awareness improved decision making through a case study featuring the NSW Flooding that occurred during March-May 2021.
IFE Conference
Complex community consequence during major emergencies in the built environment - an incident controller's perspective
Trent Curtin, Assistant Commissioner Community, Safety - Fire and Rescue NSW
"We need to continue to build resilience in our systems to ensure our transport infrastructure, our essential services and our telecommunications connectivity can withstand shock and recover quickly from major emergencies to keep our community functioning and confident in the face of adversity." – Trent Curtin
There are many factors influencing increasing complexity for fire and emergency services responding to major emergencies in the built environment. Rapid advancement in the development of emerging technologies, significant investment in adaptation solutions for climate change; increasing community expectation of government agencies; global supply chain disruptions; increasing complexity, deregulation and value-management of building and infrastructure designs: and a lack of trust and confidence in the safety of the built environment – and these are just some.
When things go wrong, our community relies on the skills, knowledge and experience of an increasingly integrated and widespread emergency management system. In this session, Trent described the role that incident controllers play in identifying emerging community consequences during major emergencies, establishing community focused consequence management systems and structures, and working with increasingly complex government and non-government stakeholders to support improved community resilience and relief from the impacts of major emergencies in the built environment.
Australian Disaster Resilience Conference
Seeking the ideal in the realm of recovery - community led recovery
Andrew Coghlan - Australian Red Cross
Lisa Gibbs - University of Melbourne
"In any recovery process or recovery program, people will sometimes initially talk about 'we want to get back to the way things were before the disaster happened'. In reality, that's never going to happen. There's an opportunity there to go forwards or there's a risk there of going backwards." – Andrew Coghlan
'You cannot seek for the ideal outside the realm of reality' is a quote attributed to French Socialist Leader, Leon Blum (1872-1950). It aptly captures the challenge of supporting community-led approaches in disaster recovery. This presentation explored these challenges drawing intelligence from the 10 years Beyond Bushfires 2020 report.
It looked at individual and community recovery experiences following the 2009 Black Saturday Victorian bushfires. High levels of resilience were evident but also profound impacts on mental health, emotional stability and social connectedness for many. The capacity to support community-led approaches depends on an understanding of disaster resilience and recovery.
These sessions are an important but small selection of the AFAC21 conference presentations that took place on Day 3 of this year's event. Pass holders can view these and all other AFAC21 presentations on demand until 31 January 2022.